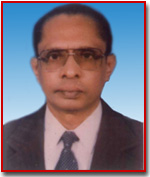 Prof. Miraanda Joseph
Research Consultant and
Astro-Psychologist

Prof. Miraanda Joseph, hailing from TamilNadu, India, aged 75 Years, basically an Engineer Consultant, has worked in the electronic field and projects for several years. At a particular age he was inclined to go for innovative research to prove the science of astrology must be of guidance for the mankind. As long as, attributed as a science, the method of analysis and approach cannot be static with old thoughts and that has to be amended and streamlined according to the environment, living style, motivation and changing world.
Prof. Miraanda with his long acquaintance for a period of twenty-two years in Dubai (U.A.E.) has contributed articles on Astro-Psychology in leading news magazines (Khaleej Weekend & Gulf News Weekly). He also initiated for a seminar on two days in Dubai, during Iraq-Kuwait war period in early 1991. With the help of eminent Doctor friends and Psychologists, that session went on very well with the caption "How to Cope with Emotional Crisis". And also he ascertained through the Gulf Weekly tabloid under the heading "prediction for peace", saying "people in this region need not become panicky at all - there will be a cease-fire shortly" (dated 9/1/1991). He had vast clientele all over the continent and they have been benefited by his continued valuable guidance.
With his innate flair and sustained case studies experience, he was able to establish the new concept of "Astro-Psychology". The definition of this terminology will be that the astrological interpretation must be coinciding with the psychological trend of that particular native. So predictions along with counseling are essential as guidelines. It is a must to segregate by different specialized areas of every horoscope to find out the solutions. Apart from astrology and planetary chart, he has also specialized through case studies correlated with the birthdate, month and year of the individual to predict, guide and encourage the natives, which certainly coincide with the birth horoscope. This will be an additional satisfaction for the native to compare by numerological factors also.
Finally, he explains by illustrations about the combined factors of astro-numero-reflections of the individual.